Prva liga tečnosti!!! Svka čast ekipi koja radi, sve pohvale!! :))))
Pro 20, 2019
Verified Purchase
Kol 21, 2019
Verified Purchase
Najbolje tekućine i jedine koje parim. Spirit of the woods moja numero uno.
Kol 19, 2019
Verified Purchase
Scroll mouse to zoom in or zoom out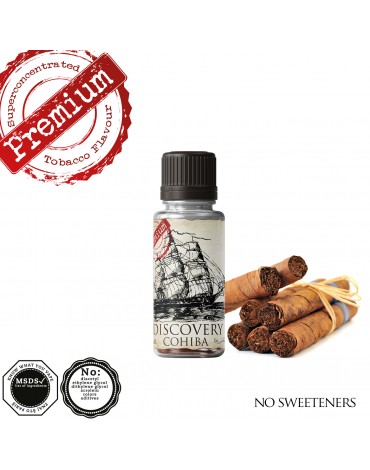 Cohiba - Discovery by Journey 10ml superconcentrate
Superkoncentrat arome okusa cigare
Blagi, lagano spicy i lagano sladak okus cigare u obliku Cohiba - Discovery by Journey superkoncentrata. Možete ga pariti odmah nakon miksanja ili ostaviti da steepa 30 dana. Preporučeni postotak miksanja je 1.5 - 2.5%
Savijeti
Kako bi sačuvali kvalitetu e-tekućine ili koncentrata savjetujemo vam da bočicu držite na hladnom i tamnom mjestu.
Dobro protresite prije upotrebe te ostavite da steepa do 30 dana s povremenim "provjetravanjem" bočice na način da ju jednostavno otvorite na par sekundi a potom ponovo zatvorite.
Savjeti oko miksanja e-tekućina
Koncentrat arome
Svi Discovery miksevi se miksaju 1,5-2,5% s VPG bazom za e-tekućine 70:30 omjera. Ukoliko miksate 50:50 VPG omjer možete smanjiti udio arome i do 2%. Udio arome u miksu e-tekućine je često stvar osobnog odabira a kako bi vidjeli što preporučuju ostali korisnici pogledajte u detaljima proizvoda ili recenzijama proizvoda.
Reviews
(0)
Možda će Vam se i ovo svidjeti
Ostali proizvodi iz kategorije
Ostali proizvodi iz iste kategorije