Prva liga tečnosti!!! Svka čast ekipi koja radi, sve pohvale!! :))))
Pro 20, 2019
Achat Vérifié
Kol 21, 2019
Achat Vérifié
Najbolje tekućine i jedine koje parim. Spirit of the woods moja numero uno.
Kol 19, 2019
Achat Vérifié
Scroll mouse to zoom in or zoom out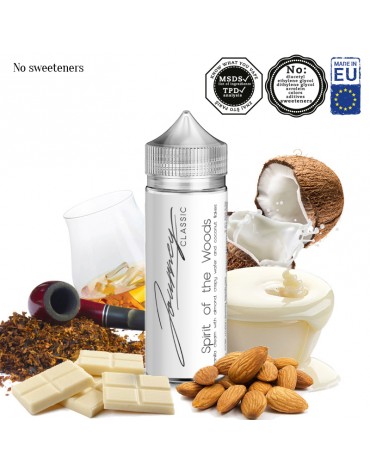 Journey Classic Spirit of the Woods 24ml in 120 longfill
Crème vanille chocolat noix de coco
Il s'agit d'une recette avec une histoire très particulière. Spirit of the Woods a été concu au cours de l'année 2016, juste avant que nous lancions Journey et que nous cherchions de quoi étoffer notre gamme avec des parfums rappellant la pipe. 15 combinaisons ont été proposées et une a été élue à l'unanimité de par sa complexité. Ce mélange est devenu Spirit of the Woods. Ce mélange contient un goût de tabac en petite quantité qui lui procure un goût unique qui est perçu différemment d'un consommateur à l'autre en fonction des ses habitudes de vape. La plupart des consommateurs sachant pertinemment qu'il s'agit d'arômes de tabac nous rapporte que la goût se rapproche des Ferrero Rafaello, un mélange de cookies, crème patissière et un peu de noix de coco. Certains y trouvent des notes chocolatées ou de rhum, mais la vraie composition restera entre nos murs.
Conseils
Pour une conservation optimale des saveurs, gardez votre e liquide Alternativ à l'abri de la lumière, dans un endroit sec et à une température ambiante d'environ 20°C.
Bien secouer avant utilisation et ne pas hésiter
Préparation de votre e liquide
Longfill
Longfill est 12 ml (24) arôme concentrate en bouteille de 120 ml. Ajouter base de nicotine à la bouteille
3mg (3,3) - 2x 20mg nic shot + VG Base to the top
6mg (5,8) - 3x 20mg nic shot + 1x 10mlg nic shot + VG Base to the top
9mg (9,1) - 1x 10ml 10mg + 5x 10ml 20mg + VG Base to the top
11mg (11.1) - 7x 20mg nic shot + VG Base to the top
15mg - 9x 20mg nic shot + VG Base to the top
Pour acheter une base VPG 0mg cliquer sur le lien.
Avis
(1)
Classic
Total Rating:





Balanced, fine liquid. Suitable for beginner and advanced vapers. It is hard to find any negative side of this liquid. If you wanna try something new but you want to be sure if it will be good to you .. Spirit of the Woods would be good choice :)
PRODUITS MÊME CATÉGORIE
Autres produits de la même catégorie