Prva liga tečnosti!!! Svka čast ekipi koja radi, sve pohvale!! :))))
Pro 20, 2019
Verified Purchase
Kol 21, 2019
Verified Purchase
Najbolje tekućine i jedine koje parim. Spirit of the woods moja numero uno.
Kol 19, 2019
Verified Purchase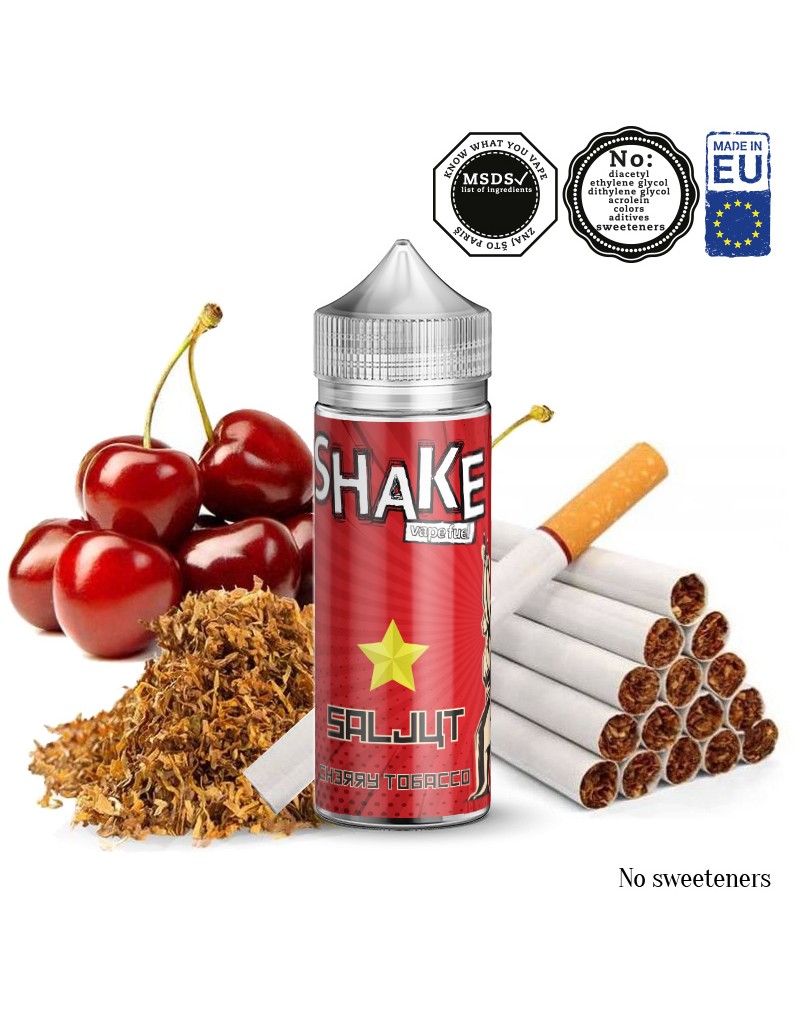 Scroll mouse to zoom in or zoom out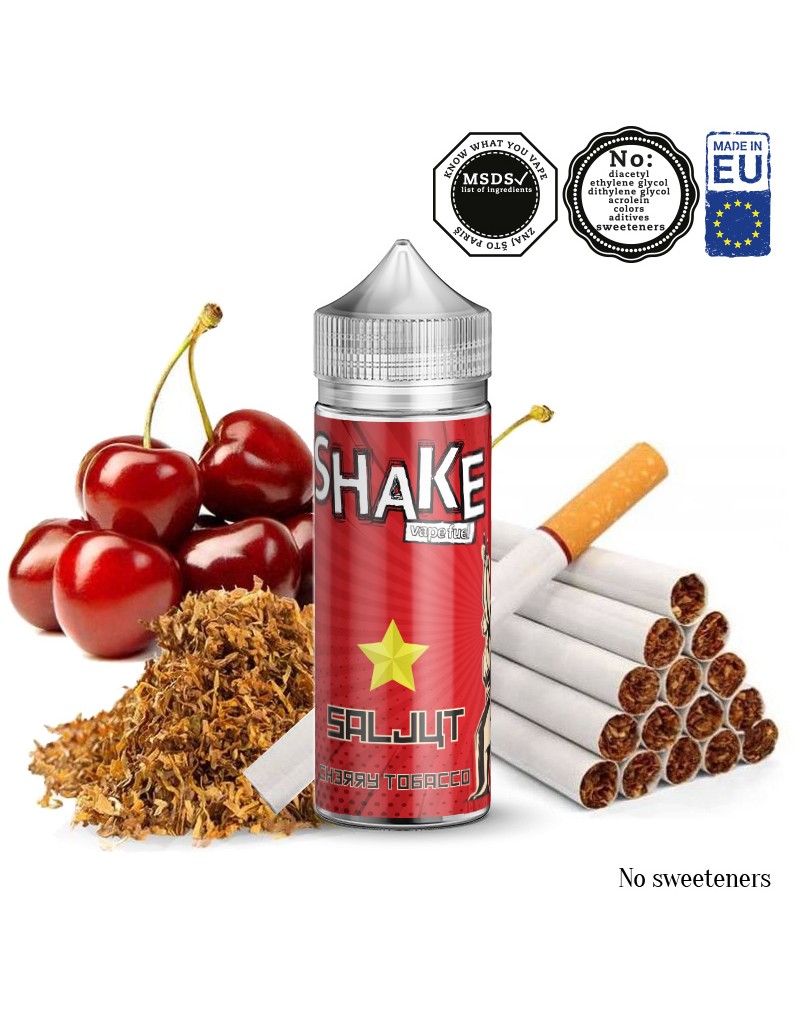 SHAKE SALJUT 24ml u 120 longfill
Our one year search for good tobacco shak`n`vape flavour is finished. This SHAKE Saljut (eng. Salute) recipe is just that - the combination of several tobacco flavours which produce great tobacco taste that doesn't need steeping. Except for tobacco, you will also taste sweet cherry flavour. Even thou this is shake`n`vape recipe due to nature of tobacco flavours with steeping tobacco will become more dominant. This recipe is best vaped on MTL to RDL atomizers.
Advice
To preserve flavors, keep e-liquids and flavor concentrates protected from light, in a dry place, and at room temperature (around 20°C).
Steeping (e liquid maturation)
Add VPG base and nic shots (if you wish), shake well - this product doesn't need steeping - its SHAKE and vape! 
Mixing tips
Longfill
Longfill is 12ml (24ml) of flavour concentrate in 120 ml Gorilla bottle which means you should add of nic base to the bottle.
Here are instructions on how to get desired nic strength:3mg (3,3) - 2x 20mg nic shot + VG Base to the top
6mg (5,8) - 3x 20mg nic shot + 1x 10mlg nic shot + VG Base to the top
9mg (9,1) - 1x 10ml 10mg + 5x 10ml 20mg + VG Base to the top
11mg (11.1) - 7x 20mg nic shot + VG Base to the top
15mg - 9x 20mg nic shot + VG Base to the topTo purchase 0mg PG/VG e-liquid base click on link.
Reviews
(7)
SALJUT
Total Rating:





Poštovani,
Hvala na odgovoru na moj komentar.
Nije mi bila namjera samo kritzirati aromu u novom pakiranju nego Vam skrenuti pažnju s obzirom da duže vrijeme koristim navedenu aromu da imam dojam da se nešto promjenilo. Ni u jednoj rečenici nisam spomenuo da je sada aroma " duplo " skuplja što Vi imate potrebu u detalje meni objasniti Vašu računicu, Moje mišljenje je da u refilu nije ista aroma kao prije u staklenoj bočici.
S obzirom da ste u aromu kako spominjete u refilu dodali 12 ml PG-a siguran samda je samim time i aroma razblažena tako da meni nije isti okus kao prije. Kada spominjete trošak bočice od 6 kuna, mislim da je svima jasno da ta bočica ne košta u izradi toliko ali ju Vi toliko naplačujete kao i svi ostali trgovci Zašto niste onda ostavili nama kupcima da imamo izbor : staklo ili PVC bočica ?
Još jednom napominjem da svojim komentarom nisam mislio ništa loše nego Vam skrenuti pozornost na činjenicu jer nisam jedini koji misli isto o navedenoj aromi.
Pozdrav
SALJUT
Total Rating:





Totalni promašaj u odnosu na staklenu bočicu navedene arome.
Izgubio se okus trešnje a samim time i smisao ove arome tako da trenutno za više novaca ( jer je refill skuplji u odnosu na staklo) dobijemo skoro istu količinu e tekučine koja kvalitetom ne odgovara prijašnjim u staklenim bočicama.
Izgleda da je ponovo prevladalo: profit i zarada prije kvalitete
O cijeni se može diskutirati u smislu da je u refillu više arome ( 24ml ) ali je učinak isti ili gori u odnosu na staklenu bočicu ( 10 ml )
Na žalost
Sa štovanjem
Dr.Sc.
Total Rating:





Za preporučiti svakome. TOP !
Ljubav na prvi puff
Total Rating:





Divan spoj duhana i trešnje koju više osjetim mirisom nego ukusom. Top 3 for me. :)
ADV
Total Rating:





in my opinion the best tobacco taste liquid for ADV!!
PRODUCTS SAME CATEGORY
Other products from same category