Prva liga tečnosti!!! Svka čast ekipi koja radi, sve pohvale!! :))))
Pro 20, 2019
Verified Purchase
Kol 21, 2019
Verified Purchase
Najbolje tekućine i jedine koje parim. Spirit of the woods moja numero uno.
Kol 19, 2019
Verified Purchase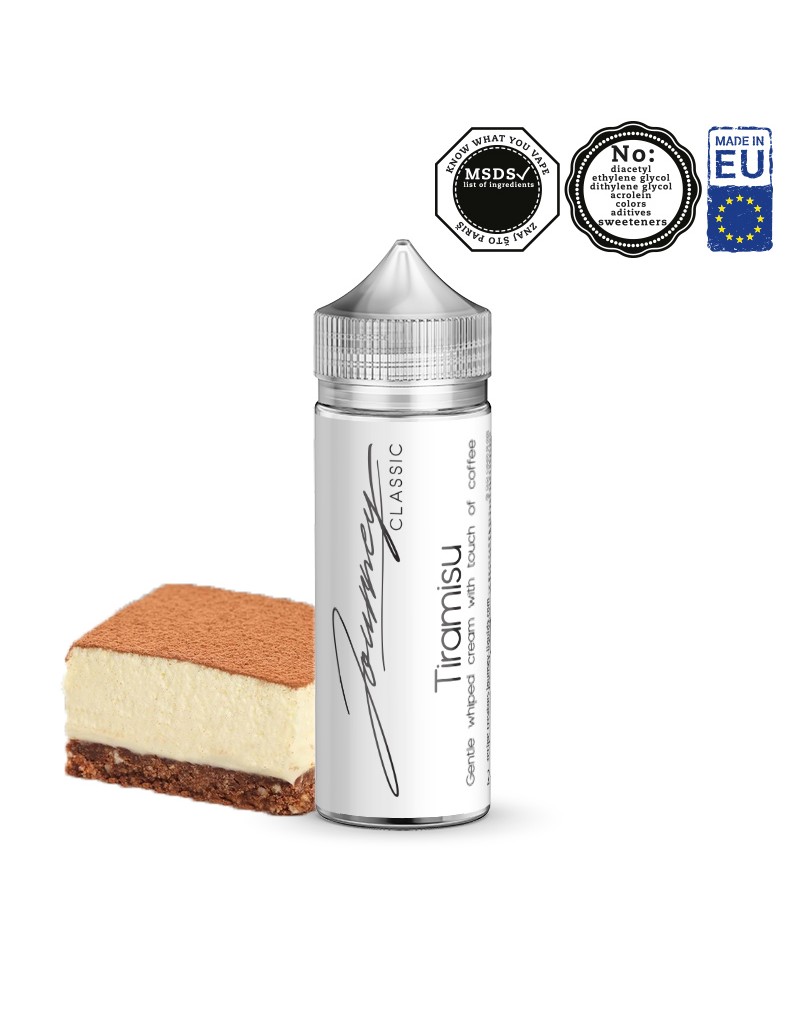 Scroll mouse to zoom in or zoom out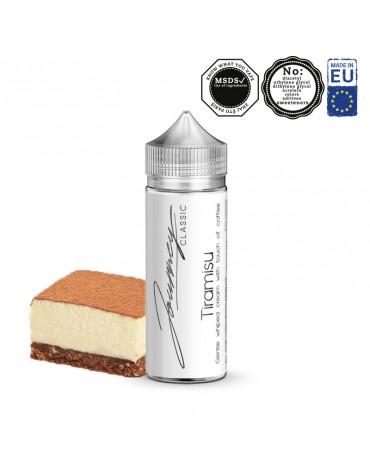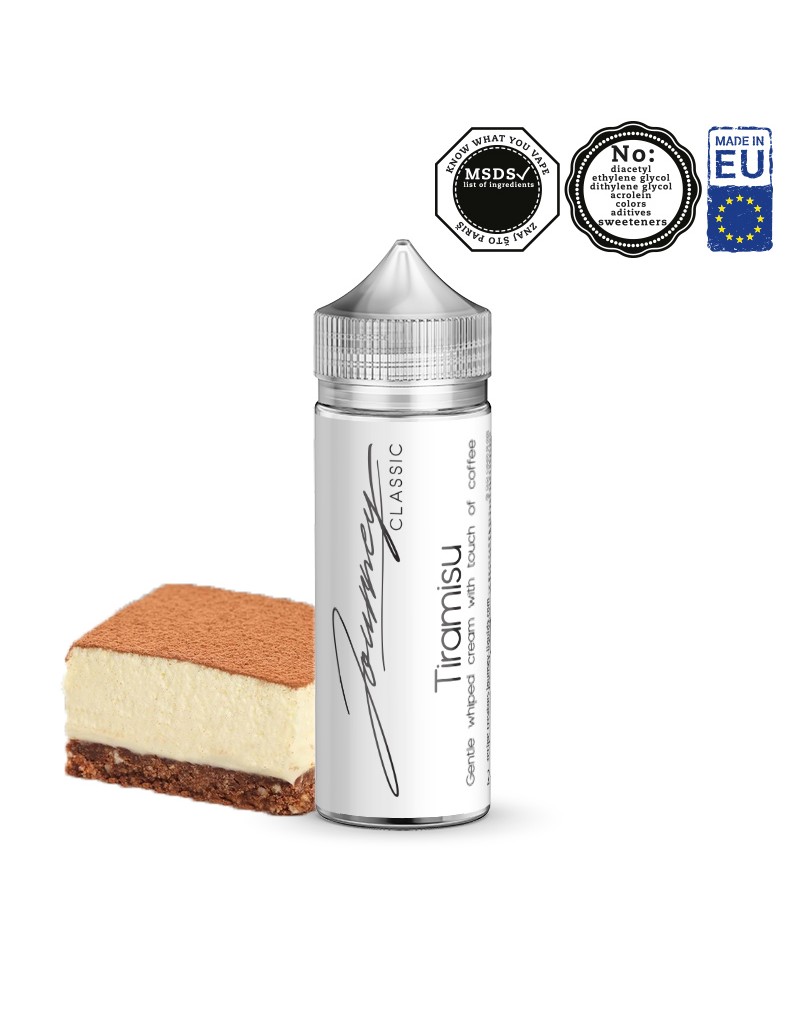 Journey Classic Tiramisu 24ml in 120 longfill
I dea for this tiramisu recipe came to us while we were eating a homemade tiramisu cake. The difference between that one and other tiramisu recipes we were used to was that this one was light, creamy, and coffee wasn't dominant. This is one of two coffee recipes in the wildbury line, but this one is preferred by the customers who love creams while customers who love tobacco vape prefer wildbury kick me.
Advice
To preserve flavors, keep e-liquids and flavor concentrates protected from light, in a dry place, and at room temperature (around 20°C).
Steeping (e liquid maturation)
Add VPG base and nic shots (if you wish), shake well and let it steep for at least 30 days. Once a week you can open a bottle so that fresh air enters it. Keep it in dark at room temperature. If you are impatient to try it out :) you can try few drops on dripper every now and then (once a week).
Mixing tips
Longfill
Longfill is 12ml (24ml) of flavour concentrate in 120 ml Gorilla bottle which means you should add of nic base to the bottle.
Here are instructions on how to get desired nic strength:
3mg (3,3) - 2x 20mg nic shot + VG Base to the top
6mg (5,8) - 3x 20mg nic shot + 1x 10mlg nic shot + VG Base to the top
9mg (9,1) - 1x 10ml 10mg + 5x 10ml 20mg + VG Base to the top
11mg (11.1) - 7x 20mg nic shot + VG Base to the top
15mg - 9x 20mg nic shot + VG Base to the top
To purchase 0mg PG/VG e-liquid base click on link.
Reviews
(2)
The best Tiramisu ever
Total Rating:





I can't say enough good things about this juice. It is one of my favorite Aeon juices and the moment I tried it for the first time, it became my all day vape and it has been that way ever since.
Tiramisu
Total Rating:





Najkraće rečeno, jedna od najboljih likvida iz Aeonove kuhinje. Zapravo, receptura je nastala davno i još tada sam govorio kako ovo treba što prije izbaciti ali su momci imali drugačije planove :) Koliko se sjećam, izašla je oko Nove godine i od tada mi je redovito u opticaju :)

Iako u mtl tankovima koristim manje više samo duhanske likvide, Tiramisu mi ubija na mtl. Možda mi se najviše svidio jer to nije ona "socijalna" aroma klasičnog Tiramisua gdje ubiva kava i slador, nego se radi o blagoj keksastoj (šlag) kremi sa decentnom notom kave. Naravno, kako ćete je vi doživjeti, ovisit će o tanku kojeg koristite i o samog buildu. Ovako ugrubo, na manjim snagama daje bolju aromu i više se osjeti slojevitost.

Još u siječnju sam napisao:

"Dugo je trajala borba, mogu čak reći i godinama :) Ako se ne varam, krajem 2017. je počelo testiranje ovog likvida a od veljače 2018. nagovaram dotične da je "ušminkaju" i izbace :) Lidlov tiramisu na fotografiji je poslužio samo za fotku i likvid nema baš neke pretjerane veze s njim. Radi se o dobro pogođenoj kafi sa šlagom i biskvitom, kako Hrvoje kaže, baš onako kako mu punica sprema. Inače, Hrvoje punicu u pozitivnom kontekstu spominje samo kada je hrana u pitanju :) Ovo je jedna od rijetkih neduhanskih likvida koja mi rastura na manjim snagama (mtl)."

Simona je komentirala: "Jedva čekam ovo probat."

Sad nakon što je probala ja joj po običaju poručujem: "A šta san ti ja reka" ????????????
PRODUCTS SAME CATEGORY
Other products from same category